There's no slowing down Lalisa Manobal. The 24-year-old Blackpink member—known to practically everyone as Lisa—made history when the K-pop group became the first to ever perform at Coachella in 2019 during its sold-out In Your Area world tour. During the pandemic, the group found new ways to connect with its global fan base, called Blinks, including an online concert and virtual signing events for Blackpink's first full-length album. Lisa has also found time to record a hotly anticipated solo debut, adopt a puppy, and become a global ambassador for Celine. Here, the inimitably chic singer models Hedi Slimane's latest hit handbag, the Tabou, a classic box silhouette calfskin bag with accordion-like side gussets and a gold-tone lock closure.
How would you describe your personal style?
I usually wear boxy tops and denim pants and carry a mini bag. It's comfortable, but it still looks stylish. I'm really into hats these days too, especially sporty ones like baseball caps, bucket hats, and beanies.
You're a big vintage collector. What do you like to collect the most and why?
Anything that gives off a truly vintage vibe. I love vintage denim pants with details that are hard to see out there today: unique buttons, varied lengths, and rare washes. I get most of my good finds from shops in Hongdae [neighborhood in Seoul] or online, but when I find something that speaks to me, I get all excited like I've found hidden treasure.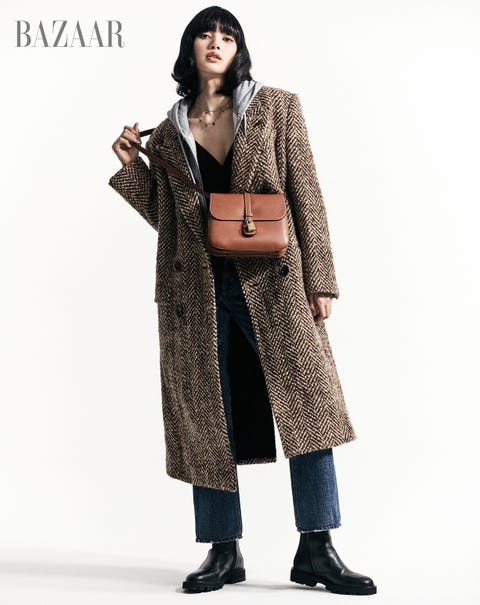 HEE JUNE KIM
What's your favorite fashion trend that's made a comeback recently? Or maybe one that's surprised you?
They say that all trends eventually circle back around, but it is pretty cool to see the same high-waisted pants from my mom's closet wherever I go. Everyone mixes and matches retro items with new season pieces too, which has totally refreshed these styles. The denim pieces for today's shoot are from the Celine Winter 2021 collection. I'm thrilled that I get to be a part of this revamp.
From Celine and Chanel to Dior and Saint Laurent, each member of Blackpink now reps a French fashion house with a distinct personality. What makes Celine the perfect fit for you?
Celine is never afraid to reinvent itself. That facet of the brand is very much in line with my personality. Sometimes it feels like Celine pieces boost my charisma and my confidence. They make me feel empowered. I think that's why Celine and I have such great synergy.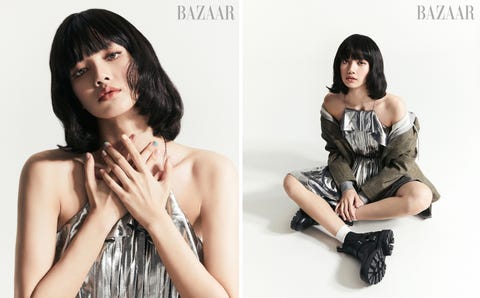 HEE JUNE KIM
What do you admire about Hedi's work? How was it shooting together?
Hedi designs, of course, but he also shoots everything himself. He's so active as an all-around artistic director, and he has unparalleled instincts. He is constantly inspiring me in new ways. I always look forward to our shoots, and it's truly an honor to feel like I'm part of Celine's history under his leadership.
What are your favorite Celine bags?
I've been carrying the Ava bag a lot recently. It's a chic black color and is shaped like a half moon, which is adorable. The strap is short, and the overall design has a neat retro feel to it. It goes with everything.
Another favorite of mine is the Triomphe bag. I'm partial to unisex pieces, and I've got a lot of boxy tops and jackets. This bag is angular, and it really completes the look I'm going for, so I end up reaching for it a lot. And the short cross strap gives it a cute touch too.
What do you like about the Celine Tabou bag, and what outfits do you plan to wear with it this fall?
The design is classic but has a vintage flair, which I really enjoy. These days, I've been drawn to long dresses, so I'd mix and match a long dress under a jacket or a coat with high-tops. I think the Tabou bag will be a nice accessory for a nice vintage fall look.
What are you most excited about for your solo debut?
I'm really curious to see how the Blinks react to it. They've been waiting a long time to hear it. They keep track of everything we do and support us. I'm excited to have another great memory with them.
You're a rapper in Blackpink as well as a dancer. Does this carry over to your solo album? Or do you reinvent yourself at all?
For this solo album, I tried to bring in different sides of myself that I haven't been able to showcase so far—and that includes everything from my wardrobe to hair, makeup, and nails. I was very hands-on with how the visuals turned out, which was a lot of fun. I'm really proud of the final product because I had so many ideas that I had wanted to incorporate. I was able to learn a lot from the whole process, and it also challenged me to broaden my horizons.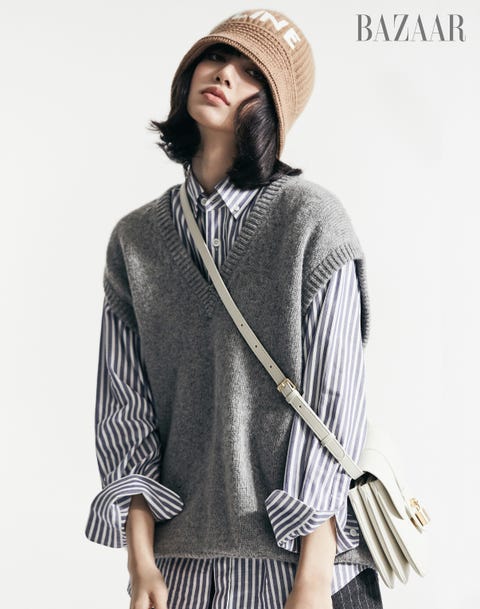 HEE JUNE KIM
You've been working nonstop since your trainee days and spent the majority of 2019 on the road for your first world tour—including your history-making Coachella performance. Then, in 2020, the world collectively paused. Was it weird to slow down?
We are not able to meet up physically with the Blinks right now, which is hard. But we kept busy last year doing lots of virtual fan signing events for our first full-length album, and we started this year with an online concert that connected us with Blinks from all over the world. That really energized us. We miss our fans so much. Some Blinks send us really sweet letters every day with words of encouragement, which helps us stay motivated. I've got my fingers crossed that we will meet again very soon.
Your family is in Bangkok. It must be hard to see them during the pandemic. I'm curious how the Blackpink members have supported one another through this difficult time.
When we're all together, we goof around all day and just talk and talk, so it's actually impossible to feel lonely or sad. Someone is always cracking jokes, and someone is always laughing at the jokes, so it's fun. If one of us is stressed, we tell another in the group. Sometimes that's all it takes to feel better. And we always check in on and look out for one another. All of us get along so well, and it's great to have such a solid support system.
You've mentioned that you enjoy sharing meals with the people you love. Do you like to cook? What is your favorite dish?
I'm so bad at cooking. But sometimes I'll feel the urge to get in the kitchen, and I'll get a meal kit [laughs]. I love truffles, and the last meal kit I got was for a truffle risotto, which turned out really, really great. My favorite food is truffle fries! That's my soul food.
What is on your bucket list?
I have five cats named Leo, Luca, Lily, Louis, and Lego, and the newest member of the family is my dog, Love! We spend a lot of time together, and I've captured tons of cute moments with them in photos. I'd love to put together an "L Family" photo album. I think it would be something I'd remember forever.
What advice would you give your younger self?
"It's all right. You're doing a great job. Slow down! Your happiness is always a top priority. You'll never regret the things that you enjoy, so chin up and be happy!"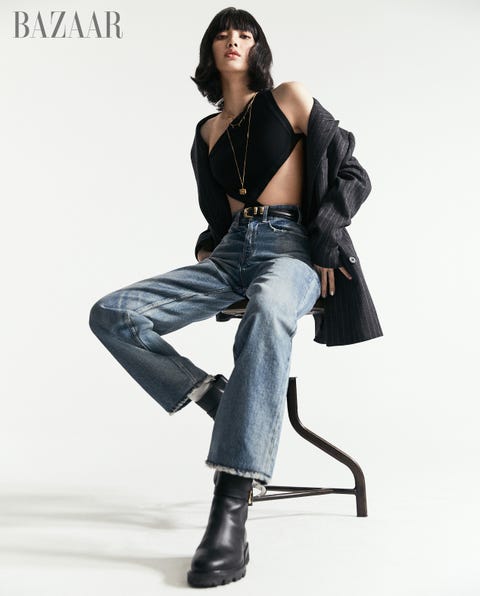 HEE JUNE KIM
---